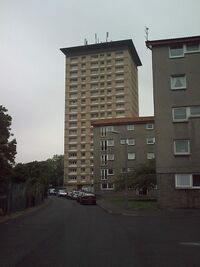 The George Street RDA is a dense housing estate in Castlehead, Paisley, just south of the town centre and west end. Phase A was built in the late 1950s, it contained four 'courts' of maisonettes and tenement flats and one high rise at George Court. The scheme was extended west in phase B, which seen eight blocks of five storey tower blocks erected and Maxwellton Court, the towns tallest occupiable building, completed in the mid 1960s.
Tower Blocks
Edit
Ad blocker interference detected!
Wikia is a free-to-use site that makes money from advertising. We have a modified experience for viewers using ad blockers

Wikia is not accessible if you've made further modifications. Remove the custom ad blocker rule(s) and the page will load as expected.