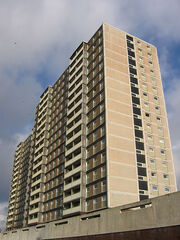 Glencairn Tower was a 17 storey tower block in Motherwell, near Glasgow. It was built in 1964 and was 49m tall. Of the 49 multi-storey tower blocks owned by North Lanarkshire Council, Glencairn Tower was the largest, consisting of 161 flats, six bin stores, two lifts and underground parking for 76 vehicles.
Glencairn Tower was unusual in that it was constructed with a steel frame, owing to the size of the block.
Following a feasibility study into the future of the tower block in 2008, the council approved plans for its demolition in August 2009. The study found that a complete refurbishment would cost in excess of £10 million and was the least cost-effective option available. The council consulted residents about the plans with 69% agreeing with demolition and 14% objecting to it. The contract for the demolition was tendered soon after, with the original contract price set at £703,400. However, the survey carried out failed to identify asbestos throughout the tower adding a further £380,000. Scottish Power also submitted a bill for £87,400 due to a need to re-route a power cable.
The tower was demolished by controlled explosion on 20th November 2011. The controlled explosion was carried out by Technical Demolition Services (TDS) with support from Precision Demolition Company who used about 100kg of explosives and set 64 charges. The council said the only damage identified by contractors was a cracked window. Glencairn Tower became the first steel-framed building to be demolished by controlled explosion in the country, and possibly the world.
As part of an art project organised by a local minister, the tower had various images celebrating its history projected onto it ahead of demolition.
The site is to be developed into low-cost affordable housing.
External links
Edit