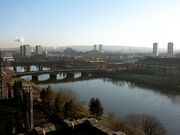 The Gorbals is an district in the south side of Glasgow. One of the oldest settlements in the city, it grew on the south bank of the Clyde across from the city centre. This led to a mish-mash of unplanned housing which soon descended into slums. In the 19th century, the Victorians tried to resolve this problem by building a tenement community that contained pubs, shops and schools and the community of Gorbals grew to around 60,000 causing unprecedented overcrowding and the area once again descended into a slum. The problem was first addressed by Glasgow City Council as early as 1919 in a Royal Commission. The area was referred to as Hell's Hundred Acres in several newspapers and contributed greatly to the city's grimy No Mean City image with its extraordinary socio-economic problems.
In the aftermath of World War 2, it was the first district in Glasgow to be granted Comprehensive Development Area status. This would mean that the tenements would be completely demolished and new housing experiments build on the cleared land. It was the largest project of its kind in the UK and construction began in 1958 and ended in 1975. Although a daring and unprecedented 'adventure' into social housing, it proved to be unsuccessful in the long term. the high rise estates that had replaced the slums fell victim to the 'Gorbals Disease' and became slums themselves. The first demolition of the new estate took place in 1987 and the area has been in a state on constant regeneration since.
Sub Districts
Edit
Famous Gorbalonians
Edit
Lorraine Kelly, TV personality and Journalist
Tommy Docherty, Celtic and Manchester Utd legend
Pat McCrerrand, Celtic legend
Ian Brady, Moors Murderer
Ad blocker interference detected!
Wikia is a free-to-use site that makes money from advertising. We have a modified experience for viewers using ad blockers

Wikia is not accessible if you've made further modifications. Remove the custom ad blocker rule(s) and the page will load as expected.