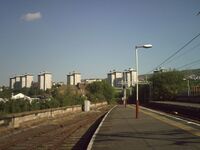 Greenock is the largest town in Inverclyde, Scotland. Situated on the Firth of Clyde 23 miles west of Glasgow, it is home to approximately 45,000 people (2015). In 1966, the population was 80,000. This decline is typical throughout the west of Scotland.
Greenock was one of only two towns in Scotland to be blitzed during World War 2, the other being Clydebank, 12 miles upstream, across the water. This resulted in a large proportion of the town being rebuilt in the 1950s and 60s.
Ad blocker interference detected!
Wikia is a free-to-use site that makes money from advertising. We have a modified experience for viewers using ad blockers

Wikia is not accessible if you've made further modifications. Remove the custom ad blocker rule(s) and the page will load as expected.