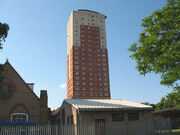 Hawke Tower is a 23 storey tower block on Woodpecker Road on the Woodpecker Estate on the border of the areas of New Cross and Deptford in Lewisham, London. Constructed in the early 1970s, the block is located in the centre of the estate and was once joined by two other 23 storey blocks - Naseby Tower and Druid Tower - as well as five 14 storey blocks. Today, it stands as the only tower block on the estate and a local landmark. It contains 92 flats.
The estate began to suffer from severe social problems from the outset and in 1992, an Estate Action Plan to regenerate the estate was approved. In 1995, proposals to demolished all but one of the tower blocks were approved, meaning that Hawke Tower would be retained and was then later refurbished. The tower was repainted and clad in brick for the lower part of the structure. A new curved roof was installed on the top of the building.
Ad blocker interference detected!
Wikia is a free-to-use site that makes money from advertising. We have a modified experience for viewers using ad blockers

Wikia is not accessible if you've made further modifications. Remove the custom ad blocker rule(s) and the page will load as expected.