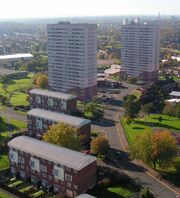 Highgate is a large residential complex in inner-city Birmingham, directly south of the city centre. The area was designated as a Redevelopment Area following World War II and saw numerous tower block plans approved for construction from 1958 till 1967. Within the Redevelopment Area, the St Luke's estate was constructed. To the north of the area, the St Martin's Flats complex had been built in the interwar period, but was demolished in the 1980s.
The first tower block to be approved was Charlbury Tower on Southacre Avenue in 1958. In the same year, Gresham Tower and Radcliffe Tower were approved on Alcester Street, and Elmstead Tower on St Luke's Road. In 1959, Ashford Tower was approved for the Alcester Street site, as well as Bransford Tower on Vaughton Street, and Baskerville Tower on the Stanhope Street site. In 1960, Cantlow House was also approved for the Stanhope Street site. In 1961, Highgate House was approved for Southacre Avenue.
In 1962, plans for taller tower blocks began to emerge with the first to be approved being the 16 storey Wellesbourne Tower on Hope Street. In 1965, Brinklow Tower and Wilmcote Tower were approved for Highgate Street. In 1967, Studley Tower was approved for Canford Close, and Lapworth House and Earlswood House were approved for St Luke's Road. Barford House and Dunchurch House were approved in 1967 and 1968, respectively. Also in 1968, plans for Princethorpe Tower were approved as the final tower blocks.
In 2008, regeneration work for the Highgate area began with the clearance of the St Luke's estate.
Tower blocks
Edit
The 20 storey tower blocks are:
There was one 16 storey tower block:
There were four 13 storey tower blocks:
There were nine 9 storey tower blocks:
Ad blocker interference detected!
Wikia is a free-to-use site that makes money from advertising. We have a modified experience for viewers using ad blockers

Wikia is not accessible if you've made further modifications. Remove the custom ad blocker rule(s) and the page will load as expected.