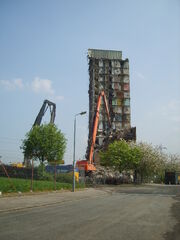 Hunterhill is a housing estate built as a result of The Housing Act (1946) that extended Paisley's boundaries and allowed the town to build large housing estates. It is located a mile south east of the town centre on the Barrhead Road.
Housing is made up almost entirely of terraced housing. With a few rows of four storey deck access flats (mostly boarded up and awaiting demolition) and two tower blocks on the border with Blackhall built at the same time as the estate. The tower blocks are Ardgowan Court and Blackhall Court.
For an aerial view of the estate click on the following link:
http://www.wikimapia.org/#y=55837229&x=-4406440&z=17&l=0&m=a&v=2
Ad blocker interference detected!
Wikia is a free-to-use site that makes money from advertising. We have a modified experience for viewers using ad blockers

Wikia is not accessible if you've made further modifications. Remove the custom ad blocker rule(s) and the page will load as expected.