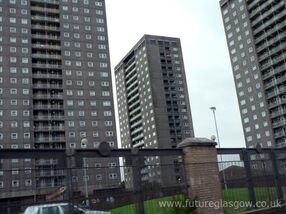 Ibrox is a sub district of Govan in Glasgow's south side, making up the central part of the area. Glasgow rangers FC play at Ibrox Stadium in the locale.
Housing in Ibrox is mostly in the form of tenement flats owned by the Glasgow Housing Association. Some of these were built during Victorian years and survived Comprehensive Redevelopment although the vast majority were built during the 1920s and 1930s at the expense of earlier flats. These tenements themselves in 2007 have reached the end of their usefulness and are being emptied for demolition in the near future. Some have been demolished already. There are three high rise estates in Ibrox:
Ad blocker interference detected!
Wikia is a free-to-use site that makes money from advertising. We have a modified experience for viewers using ad blockers

Wikia is not accessible if you've made further modifications. Remove the custom ad blocker rule(s) and the page will load as expected.