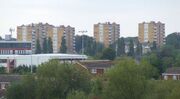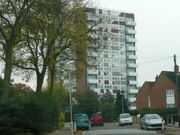 The
Kingshurst Hall Estate
is a large
council estate
in the Kingshurst area, in the northwest of the Metropolitan Borough of
Solihull
, England. The estate sits a few hundred metres from the Borough's border with
Birmingham
, and the estate was actually constructed by Birmingham City Council when the land was within their boundaries. The estate is bordered to the south by Fordbridge Road and the River Cole, to the west by York's Wood, to the north by Silver Birch Road, and to the east by 1960s low rise housing.
The estate was planned as part of wider plans for the expansion of Birmingham to the east in the postwar period and was constructed over numerous phases. For the estate, hundreds of homes were planned, including 6 tower blocks which were built over 3 phases. The first phase of tower blocks began construction in 1959 with the building of four 9 storey blocks at Stonebridge Crescent, next to the remains of the historic Kingshurt Hall, from which the estate takes its name. The blocks were completed in 1960 by Morriss & Jaccombs. These 4 blocks were joined by another identical block in 1964, built by Bryant. In 1961, plans for a 12 storey tower block at Over Green Drive were approved and it was built the following year by Wimpey.
The estate has undergone some regeneration and redevelopment over the past 15 years but the majority of the original housing stock remains.
Tower blocks
Edit
The first four 9 storey tower blocks at Stonebridge Crescent were:
These were joined by Kingshurst House four years later. The 12 storey block built at Over Green Drive was Redwood House.
Ad blocker interference detected!
Wikia is a free-to-use site that makes money from advertising. We have a modified experience for viewers using ad blockers

Wikia is not accessible if you've made further modifications. Remove the custom ad blocker rule(s) and the page will load as expected.