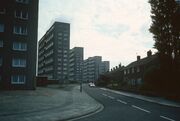 Lee Park Estate (also known as Netherley Estate) was a housing estate of five maisonette tower blocks in Belle Vale, Liverpool. The area is also home to Lee Park Golf Club.
The five tower blocks, built in the 1960's by George Wimpey, were all named after prime ministers of the United Kingdom and provided fantastic views from the top, but soon became very unpopular to the point of them being nicknamed the "Ugly Sisters" of Lee Park. By the 1980's they had become derelict with Chamberlain House completely vacated by 1990.
On 13th September 1992, all five of the towers were demolished in a controlled explosion by Controlled Demolition Group Ltd. Former resident John Evans, who lived in Churchill House, pressed the plunger.
Tower blocks
Edit
Ad blocker interference detected!
Wikia is a free-to-use site that makes money from advertising. We have a modified experience for viewers using ad blockers

Wikia is not accessible if you've made further modifications. Remove the custom ad blocker rule(s) and the page will load as expected.