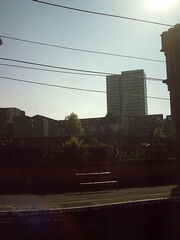 Lynedoch Court was a 17 storey tower block in Greenock, near Glasgow. It was built in 1971, one of the tallest in the town at 46m tall. When its sister block, Antigua Court was demolished in 2006, Lynedoch Court was refurbished. This did not improve the popularity of the block, which had a reputation for high crime rates and drug abuse. It was demolished over 5 months from November 2008 to March 2009.
Ad blocker interference detected!
Wikia is a free-to-use site that makes money from advertising. We have a modified experience for viewers using ad blockers

Wikia is not accessible if you've made further modifications. Remove the custom ad blocker rule(s) and the page will load as expected.