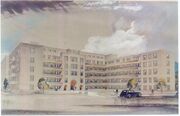 Maple House is a 5 storey block of 60 deck-access flats on Payne Street on the Idonia Street Estate in Deptford, London. The block was built in the late 1940s under the name 'Idonia Street Flats' as one of the first blocks of flats in Deptford. It has a H-shaped footprint, with the main entrance in the centre of the block. The block is constructed out of brick, a stark difference to the concrete buildings of 10 years later, with circular porthole windows, balconies and a pitched roof, which was a later addition to the block.
Ad blocker interference detected!
Wikia is a free-to-use site that makes money from advertising. We have a modified experience for viewers using ad blockers

Wikia is not accessible if you've made further modifications. Remove the custom ad blocker rule(s) and the page will load as expected.