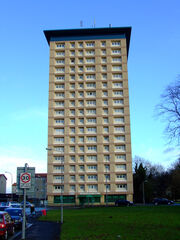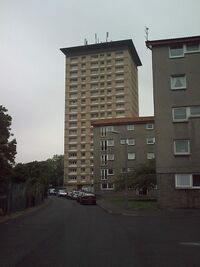 Maxwelton Court is the tallest residential building in Paisley. It is a 18 storey tower block located on Maxwellton Street in the Castlehead area of town. The project, containing 102 flats, was approved in 1965 in Stage II of phase 2 of the George Street redevelopment which became the George Street RDA.
Construction was carried out by Lawrence using steel. While most tower blocks are built using concrete or brick, steel was uused to build several tower blocks in the UK atduring the mid-1960s to boost the UK's steel industry. Other notcable steel estates include Glasgow's Red Road.
The building has two lifts in a central position with 6 flats, 1-2 bedrooms in size, on each floor. There are stairwells at either side of the building. Over 3/4s of its current population are over 75 although there are tenants as young as 16 in the block. This has caused tensions between young and old residents.
Maxwellton Court was refurbished in the mid-1990s with yellow cladding applied to the external walls and a blue podium was added. A secure entry system was also added.
Ad blocker interference detected!
Wikia is a free-to-use site that makes money from advertising. We have a modified experience for viewers using ad blockers

Wikia is not accessible if you've made further modifications. Remove the custom ad blocker rule(s) and the page will load as expected.