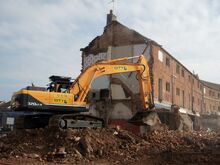 Melbourne House was a 6 storey tower block on Melbourne Road on the Kitsland Road estate in Shard End, Birmingham, England. The block was approved for construction in 1955 and completed in 1957 by Simms Sons & Cooke. It was demolished by City Demolition who were commissioned by Birmingham City Council for the job. The building had a long Y footprint with the balconies being located within the central portion of the building. The block was built out of brick.
There were 9 tower blocks in total in Shard End. It is next to the massive housing complex of Chelmsley Wood which had 51 tower blocks up to the 1990s. To the north is Bromford which had 20 tower blocks up until the 2000s.
Shard End tower blocks
Edit
Buckland End - 2 tower blocks
Shard End - 1 tower block
Kitsland Road - 6 tower blocks [all 6 demolished 2003-2004]
Ad blocker interference detected!
Wikia is a free-to-use site that makes money from advertising. We have a modified experience for viewers using ad blockers

Wikia is not accessible if you've made further modifications. Remove the custom ad blocker rule(s) and the page will load as expected.