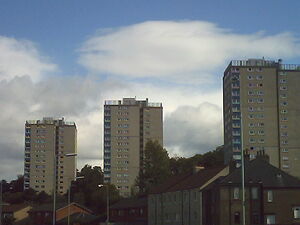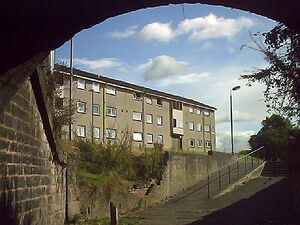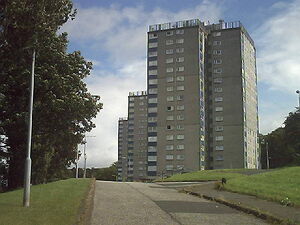 Millarston is a housing scheme in Ferguslie, Paisley. It is bordered by Ferguslie Park, Lounsdale, the Ferguslie RDA and the village of Elderslie. Millarston is split into two parts, Millarston and Millarston East. Millarston was developed in the Inter War years with three storey tenements along the A761. Millarston East was developed in the 1960s and consisted of three storey tenement housing on Millarston Drive, Millarston Avenue and Thomas Street as well as three 15 storey tower blocks.
There are a wealth of social problems in the area and it is under going serious redevelopment with private housing being built on the site of the former John Neilson High School. That private estate is called Ashview. The three high rises are being prepared for demolition in November/Decemeber 2007 while the rest of Millarston East is also being emptied for demolition. One row of tenements have already been demolished at the foot of Millarston Drive.
tower blocks
Edit
For an aerial view of the estate [1]
Ad blocker interference detected!
Wikia is a free-to-use site that makes money from advertising. We have a modified experience for viewers using ad blockers

Wikia is not accessible if you've made further modifications. Remove the custom ad blocker rule(s) and the page will load as expected.