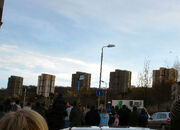 Mitchellhill is a high rise housing estate on the southern periphery of Castlemilk, Glasgow. The project was approved in 1963 and was completed two years later in 1965. It consisted of five 20 storey tower blocks which inspired Adam NcNaughton to write the popular childrens song "The Jeely Piece Song[1]" It was hoped that the semi-rural location of the tower blocks would be enjoyed by residents however many felt isolated from the city, a common problem in Castlemilk. Pearl Jephcott made Mitchellhill one of five estates covered in her in-depth social study of tower blocks in her 1971 book, "Homes in High Flats". As the estate's problems worsened and Mitchellhill became more notorious for crime and drugs, the blocks were demolished on the 27th of November 2005 by Safedem of Dundee despite two of the blocks having recieved refurbishments during the 1990s.:
tower blocks
Edit
Ad blocker interference detected!
Wikia is a free-to-use site that makes money from advertising. We have a modified experience for viewers using ad blockers

Wikia is not accessible if you've made further modifications. Remove the custom ad blocker rule(s) and the page will load as expected.