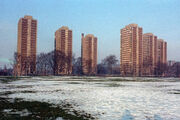 The
Nightingale Estate
is located in
Hackney
, East
London
. It consisted of six 22 storey tower blocks approved in 1968:
5 of these have since been demolished. Only Seaton Point remains.
The six Nightingale Estate blocks were built in 1968 next to Hackney Downs. Seaton Point was distinguished with its chimney.
During the 1990's the flats fell into disrepair and the Hackney Council decided it was time they were demolished. Farnell Point was the first tower block to be felled by controlled explosion in July 1998. During 1998-1999, Seaton Point, which had been saved from demolition, was refurbished and painted white. Despite this the council continued to demolish blocks on the estate.
Embley and Southerland were demolished next in December 2000 with Christmas trees painted on the banners. The last of flats to be done away with were Rathbone and Rachel on November 30, 2003. The BBC television show Top Gear used this as a stunt for the 'indestructible' Toyota Hilux which was hoisted onto the roof of Rachel Point. The car still worked after the demolition and was placed on the wall of the Top Gear studios.
Since 2003, low-rise buildings have been built where the old tower blocks once stood.
Ad blocker interference detected!
Wikia is a free-to-use site that makes money from advertising. We have a modified experience for viewers using ad blockers

Wikia is not accessible if you've made further modifications. Remove the custom ad blocker rule(s) and the page will load as expected.