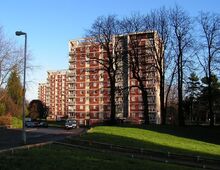 Normanton Tower is a 36 metre tall tower block on Portfield Grove on the Lyndhurst estate of Erdington, Birmingham, England. It is one of the five shorter tower blocks on the estate at 12 storeys in height. It was completed in 1959 making it one of the two earliest completed tower blocks on the estate too.
In 1961, the tower block won the Civic Award for housing, along with the rest of the estate. The refurbishment of the tower is proposed.
Ad blocker interference detected!
Wikia is a free-to-use site that makes money from advertising. We have a modified experience for viewers using ad blockers

Wikia is not accessible if you've made further modifications. Remove the custom ad blocker rule(s) and the page will load as expected.