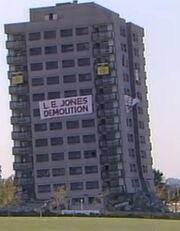 Northaird Point
was one of seven tower blocks on the now demolished
Trowbridge Estate
in Hackney, London. It was completed in 1968 and was 21 storeys tall.
On 3rd November 1985 the building was unsuccessfully demolished by L. E. Jones and the ill-fated demolition left the top 11 floors standing, so the rest of the building was demolished by a wrecking ball. It was also nicknamed "The Leaning Tower of Hackney". It was the first tower on the estate to be demolished, and the rest of the buildings were all demolished by 1996.
Having been completed in 1968 and demolished in 1985, the block lasted for just 17 years.
The building was also featured at the start of the 2006 film "This is England".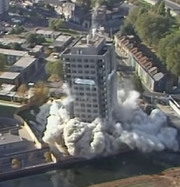 Ad blocker interference detected!
Wikia is a free-to-use site that makes money from advertising. We have a modified experience for viewers using ad blockers

Wikia is not accessible if you've made further modifications. Remove the custom ad blocker rule(s) and the page will load as expected.