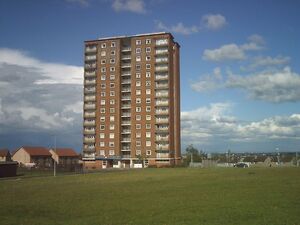 Oliphant Court is a 15 storey tower on Heriot Avenue in the Foxbar housing scheme in Paisley, Scotland. It was approved in 1958 as part of Stage 2 of the Foxbar project. Construction of the 40m tall, brick based building was carried out by D.L. and ended in 1960. The 56 flats were owned by the Scottish Special Housing Association, and it is now owned by Paisley South Housing Association.
After four high rise demolitions in Foxbar, Oliphant Court is the last tower block remaining in the scheme. After a moderate refurbishment in which several alterations internally and externally were carried out, it has become fairly popular. People wishing to live in Oliphant Court must be over 38 and have no children under the age of 14.
Ad blocker interference detected!
Wikia is a free-to-use site that makes money from advertising. We have a modified experience for viewers using ad blockers

Wikia is not accessible if you've made further modifications. Remove the custom ad blocker rule(s) and the page will load as expected.