Osbourne Tower is a 16 storey tower block on Gladstone Road / Church Lane in the Nechells area Aston, Birmingham. Plans for the block were approved in 1965 and it was completed in 1966 by Wates. It is 47 metres tall,contains 92 flats and was near to the high rises of the Holte & Priory Estate by Spaghetti Junction.
In September 2011, Birmingham City Council stated their intention to demolish the tower within the next 5 years, as the tower no longer met modern standards for housing and had become uneconomical to maintain. The proximity of the tower block to the Aston Expressway (A38 Motorway) is also a major factor as it is deemed an eyesore and unwelcoming to any visitors to the city of Birmingham.
This has been key in the destruction of hundreds of tower blocks across
Birmingham
as significant roads pass directly through the metropolis taking motorists to and from all corners of the country. With the tens of miles of elevated highways in
Birmingham
&
The Black Country
it was possible to see much further over the city landscape than at ground level. So although when the hundreds of tower blocks were first built next to the M6 & M5 motorways in the region their appearance looked modern, the many years of disrepair, lack of maintenance and bad stigma now associated with them led to a very grimey portrait of what
Birmingham
had to offer.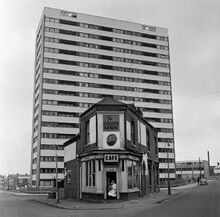 At least 240 tower blocks were very visible when travelling on the M6 from
Chelmsley Wood
in the east of the region to
Bloxwich
on the north side. Approximately 90-100 tower blocks used to be visible on the M5 from
Rubery
and
Frankley
in the south-west of the region, all the way up to
West Bromwich
before the motorway joined the M6. Since the 1990s there has been a mass clearance of tower block estates in view of the motorways as well as all over the metropolis. Less than half of the tower blocks now remain in sight of motorists and tourists with approximately 100 in view on the stretch of M6 and approximately 50 in view on the stretch of M5. It has also coincided with a significant drop in levels of violent crimes in the particular areas of regeneration.
The newest wave of demolition in Aston is part of a wider £26 million clearance scheme which will see a total of 8 tower blocks across the city demolished.
Tower blocks nearby
Edit
Ad blocker interference detected!
Wikia is a free-to-use site that makes money from advertising. We have a modified experience for viewers using ad blockers

Wikia is not accessible if you've made further modifications. Remove the custom ad blocker rule(s) and the page will load as expected.