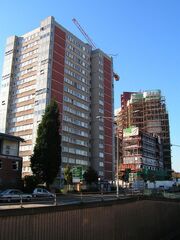 Ottawa Tower is a 47 metre tall tower block on Murrell Close in the Benmore estate on the outskirts of Birmingham city centre, England. Construction of the project, then called the Calthorpe Park project, was approved in 1963 and construction was completed in 1966. It has 16 floors and has 92 flats.
Ownership of the flats within the block was transferred from Birmingham City Council to Optima Housing in 1999 and the tower was subsequently refurbished.
Ad blocker interference detected!
Wikia is a free-to-use site that makes money from advertising. We have a modified experience for viewers using ad blockers

Wikia is not accessible if you've made further modifications. Remove the custom ad blocker rule(s) and the page will load as expected.