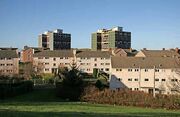 Oxgangs
is a housing estate located in the south-west of
Edinburgh
, Scotland.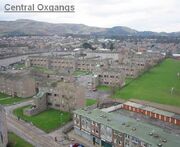 Building of the area (with the exception of neighbouring area Colinton Mains) initially started in 1953 with the construction with a mixture of houses, flats and bedsits (and later on with the addition of maisonettes and high rise flats in the early 1960s), all of which were built by the city council. In the 1950s and 60s Oxgangs was still very much cut off from the city as it was so far out but over the years there have been many more housing developments nearby such as Hunter's Tryst and Swanston which have made it much less rural. Also, there are lots of local amenities such as two large supermarkets and a public library.
When the right-to-buy scheme was introduced in the early 1980's Oxgangs was a popular area for tenants buying their homes and nowadays a large number (if not most) of the homes (particularly in houses) are in private ownership, making it extremely difficult for people to be allocated a council property in the area.
In 1961, three 14 story tower blocks were constructed on Firrhill Drive/Oxgangs Crescent, these blocks were called
Allermuir Court
,
Caerketton Court
and
Capelaw Court
and were coloured in either orange or pink.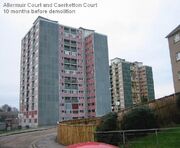 At the time of their completion they were thought of as luxurious and were conveniently known as "The Comiston Luxury Flats", also the community spirit of tenants was extremely vibrant (as documented in the booklet "Village in the Sky", available from Pentland Community Centre). However, the tower blocks (like many other high rise developments of the 1960s) were poorly built and suffered badly. Issues such as heating and dampness were a big problem, and also as the original tenants started moving on to larger houses or other areas in the 1970s, high rise living was reaching a decline in popularity and hence some more undesirable and unsociable types of tenants began moving in. By the heroin craze of the 1980s the flats were a notorious hotspot for drugs and crime and had gained a bad name. However, a significant amount of community spirit still existed and in 2000, after a tenant discovered major structural cracks in their flat, a tenants organisation campaigned for the flats to be demolished and for new high quality low-rise housing to be built on the site. With the help of a local MSP, £10million was secured and the flats were demolished between 2005 and 2006 (Capelaw Court being the first to go). New low-rise housing is currently being built on the site and a number of houses are already complete with tenants living in them.
Ad blocker interference detected!
Wikia is a free-to-use site that makes money from advertising. We have a modified experience for viewers using ad blockers

Wikia is not accessible if you've made further modifications. Remove the custom ad blocker rule(s) and the page will load as expected.