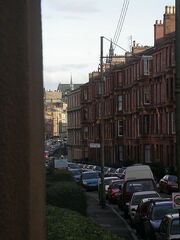 Partick is a large area in the west end of Glasgow. It is home to some of the finest and best preserved examples of Victorian tenements as well as a number of the city's biggest tourist attractions like the Transport Mueseum and Kelvingrove Mueseum and Art Gallery. Partick is also the cultural hub of the west end with many of the trendiest bars in the city located around Byres Road. The area escaped much of the comprehensive development of the 50s, 60s and 70s. Only one tower block at Crathie Court and a few post war tenements are its only scars from that era. Glasgow University is located in the area as is the Western Infirmary. In recent years, Partick has seen some modern transformations. Not least with the demolition of the Meadowside Granary to be replaced with the ambitious Glasgow Harbour development.
Sub areas
Edit
Ad blocker interference detected!
Wikia is a free-to-use site that makes money from advertising. We have a modified experience for viewers using ad blockers

Wikia is not accessible if you've made further modifications. Remove the custom ad blocker rule(s) and the page will load as expected.