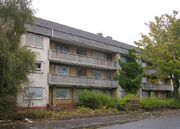 Penilee is a housing scheme in the south side of Glasgow. It lies north of Crookston, west of Hillington, south of Hillington industrail estate and east of the town of Paisley.
While the construction of new housing ground to a halt in most of the country, Penilee was created during World War 2 and completed just after the war. Housing consisted of 3 storey tenements and cottage flats. Because of the lack of raw materials such as timber at this time, many of the flats had flat roofs. These roofs were added when the economic climate recovered. Penilee is undergoing regeneration at the moment whith the High School closing and some of the flats being demolished. There are four tower blocks at Kelhead Path.
Ad blocker interference detected!
Wikia is a free-to-use site that makes money from advertising. We have a modified experience for viewers using ad blockers

Wikia is not accessible if you've made further modifications. Remove the custom ad blocker rule(s) and the page will load as expected.