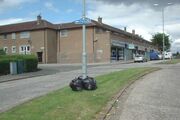 Pollok is an area in Glasgow's south side. It was one of the Comprehensive Redevelopment Areas designated by Glasgow City Council in the 1950s and one of the 'Big Four' housing estates built during that era. It is bordered by Priesthill to the south, Pollok Country Park, Corkerhill and Mosspark to the west, Cardonald to the north, with Crookston and Hurlet to the west. Pollok is split into several 'sub-estates':
Housing estates
Edit
Ad blocker interference detected!
Wikia is a free-to-use site that makes money from advertising. We have a modified experience for viewers using ad blockers

Wikia is not accessible if you've made further modifications. Remove the custom ad blocker rule(s) and the page will load as expected.