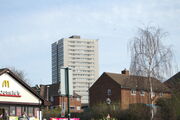 Pritchett Tower is a 57 metre tall tower block on Arthur Street in the Small Heath area of Birmingham. Plans for the block were approved in 1969 as part of the wider St Andrews Comprehensive Development Area. It was completed in 1971 by Wimpey. It has 20 floors with a total of 118 flats.
An extensive refurbishment was carried out on the tower during 2009 and 2010, with the replacement of windows, attachment of new insulation and cladding, the entire building painted white, and the installation of blue strip lighting around the top of the building.
Ad blocker interference detected!
Wikia is a free-to-use site that makes money from advertising. We have a modified experience for viewers using ad blockers

Wikia is not accessible if you've made further modifications. Remove the custom ad blocker rule(s) and the page will load as expected.