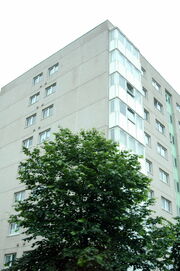 Pype Hayes is an area of Erdington in Birmingham. It is mainly situated around Pype Hayes Manor, Pype Hayes Park and Pype Hayes Golf Course. After World War II, a large housing estate was built near the border with Tyburn.
Several tower blocks were built as part of it. Significant structural problems were highlighted soon after completion and in the 1990s, nearly all of the estate was demolished. One tower block, Sorrel House, was retained and refurbished. A new housing estate comprising of detached houses was built.
Ad blocker interference detected!
Wikia is a free-to-use site that makes money from advertising. We have a modified experience for viewers using ad blockers

Wikia is not accessible if you've made further modifications. Remove the custom ad blocker rule(s) and the page will load as expected.