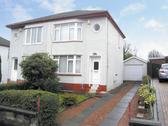 Ralston is a residential area in the east end of Paisley. Housing is predominantly made up of semi detached homes and bungalows, with two blocks of maisonettes at Cayzer Court. It is a middle class area with a respectable primary school in the Paisley Grammar School catchment area, half an hour along Paisley Road West is Glasgow city centre and a golf course. It is bordered to the north by Oldhall, to the west by Crookston, to the east by Hawkhead and the golf course to the south. The scheme was developed in the 1920s and 1930s.
For an aerial View:[1]
Ad blocker interference detected!
Wikia is a free-to-use site that makes money from advertising. We have a modified experience for viewers using ad blockers

Wikia is not accessible if you've made further modifications. Remove the custom ad blocker rule(s) and the page will load as expected.