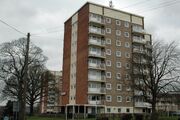 Redway Court is a 9 storey tower block on Mount View and Reddicap Hill in the Reddicap area of Sutton Coldfield, Birmingham, England. It was approved in 1965 as part of a wider housing scheme named The Mount, which included a sister block named Copsehill Court. It was constructed by Stubbings, and opened by the Duchess of Kent in 1967. It contains 51 flats, numbered 1-12 and 14-52.
Ad blocker interference detected!
Wikia is a free-to-use site that makes money from advertising. We have a modified experience for viewers using ad blockers

Wikia is not accessible if you've made further modifications. Remove the custom ad blocker rule(s) and the page will load as expected.