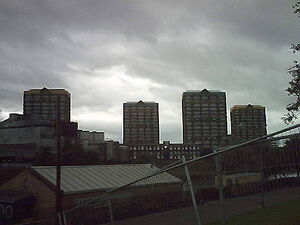 Riverside (or Hutchesontown B, to give it its proper name) was approved in 1958 as redevelopment Area B of Hutchesontown in The Gorbals in Glasgow's south side. It comprises of four 18 storey tower blocks and several blocks of low rise maisonettes, and was completed in 1964.
Designed by Robert Matthew, the blocks employ the "scissor section" design where each dwelling is spread across both the front and rear of the building, accessed from corridor level via a short staircase.
Riverside is arguably the most successful of all the Gorbals redevelopment areas and along with the two surviving Area D towers, the only tower blocks in the Gorbals with a long term future. The four towers were refurbished in 2007 with overcladding, with the external balconies now closed in.
Tower blocks
Edit
Ad blocker interference detected!
Wikia is a free-to-use site that makes money from advertising. We have a modified experience for viewers using ad blockers

Wikia is not accessible if you've made further modifications. Remove the custom ad blocker rule(s) and the page will load as expected.