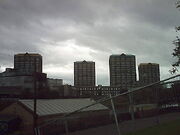 Robert Matthew was a Scottish architect born in Edinburgh. He attended the Edinburgh College of Art and in 1946, he moved to London as Chief Architect of London County Council, working on the post-war reconstruction of Greater London and masterminding the Festival of Britain including such buildings as the Royal Festival Hall, 1951. In 1956, with Stirrat Johnson Marshall, he established the firm of RMJM (Robert Matthew, Johnson Marshall) in Edinburgh and London. Their first project was New Zealand House in the Haymarket. By 1953 he returned to Edinburgh to become the first Professor of Architecture at the University of Edinburgh, where he ran the Department of Architecture in collaboration with RMJM, in a manner that has been compared to Walter Gropius at the Bauhaus. There is now the Matthew Architecture Gallery in the department in his honour.
Matthew was closely involved with Basil Spence and Alan Reiach in the University's development plan for George Square, which ultimately resulted in the demolition of all but one side of the square, and their replacement with modernist buildings. Matthew/RMJM were directly responsible for the design of the Arts Faculty buildings, now called the David Hume tower, Adam Ferguson building and William Robertson building.
Robert Matthews designed the Riverside housing estate in Gorbals, Glasgow. This was completed in 1958. Glasgow City Council gave him the responsibility for designing the Hutchesontown Area B scheme and it was the most successful housing project in the district. Matthews also could have been involved in Paisley's regeneration in the 1950s. The Clyde Regional Plan drawn up in 1946 by Sir Patrick Abercrombie would have seen Matthew design several tower blocks in the Castlehead area but this was blocked by protesting locals.
Matthew was twice appointed President of the RIBA and later President of the Commonwealth Association of Architects [CAA] and the International Union of Architects [UIA]. In Edinburgh, he was also behind the Royal Commonwealth Pool, British Home Stores on Princes Street, Edinburgh Airport, Lothian Regional Council Building and Wester Hailes Education Centre.
Elsewhere, Matthew/RMJM were involved in the design for the campuses of the University of Stirling and University of York.
Ad blocker interference detected!
Wikia is a free-to-use site that makes money from advertising. We have a modified experience for viewers using ad blockers

Wikia is not accessible if you've made further modifications. Remove the custom ad blocker rule(s) and the page will load as expected.