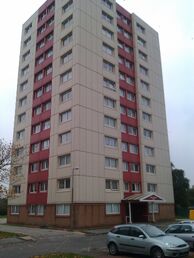 Ross Cleveland House is a 12 storey tower block on Valiant Drive, in Hull's Bilton Grange Estate. The block is owned by Hull City Council, and is of a brick construction, but was clad in the mid 1990s.
Ross Cleveland House sits in a group of 3 tower blocks on the edge of the post war Bilton Grange Estate, in East Hull.
Paying homage to the city's fishing industry, the 3 tower blocks are all named after trawlers lost in the Arctic in early 1968. Other blocks on Bilton Grange:
Ad blocker interference detected!
Wikia is a free-to-use site that makes money from advertising. We have a modified experience for viewers using ad blockers

Wikia is not accessible if you've made further modifications. Remove the custom ad blocker rule(s) and the page will load as expected.