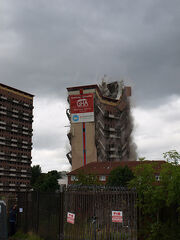 The Shawbridge Corridor in Pollokshaws, Glasgow had 9 high rise blocks and several low to mid rise dwellings. It was part of an ambitious redevelopment plan in post war Glasgow to alleviate the overcrowded slums to farther afield areas like Pollokshaws. Tower blocks in the Shawbridge Corridor included:
As of March 2016, with the exception of the refurbished 33 Cartcraig Road, all of the towers have been demolished.
Ad blocker interference detected!
Wikia is a free-to-use site that makes money from advertising. We have a modified experience for viewers using ad blockers

Wikia is not accessible if you've made further modifications. Remove the custom ad blocker rule(s) and the page will load as expected.