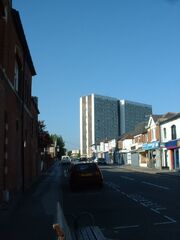 Shirley Towers is a shit hole tower block in Southampton. Situated within the busy, debauched and derelict dump of Shirley, the block of flats is similiar in design to Sturminster House and Albion Towers - also within the city. Shirley Towers (fondly referred to by locals as Shitty Towers) is part of an estate of otherwise low rise deck access flats and maisonettes.
Shirley Towers made the news a few years ago when two men died after a brawl on the 7th floor ended up in the two men falling down the lift shaft - due to the lift doors not being maintained properly. Some call this natural selection, others joint-first nominees for a Darwain Award.
Further deaths in the building include those of two firefighters from Hampshire Fire and Rescue Service.  For more details, see the HFRS website: http://www.hantsfire.gov.uk/theservice/jamesandalan.htm
Ad blocker interference detected!
Wikia is a free-to-use site that makes money from advertising. We have a modified experience for viewers using ad blockers

Wikia is not accessible if you've made further modifications. Remove the custom ad blocker rule(s) and the page will load as expected.