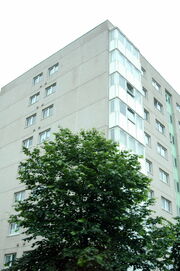 Sorrel House is a 9 storey tower block on Tyburn Road on the former Pype Hayes estate in Erdington, Birmingham. Plans for the block were approved in 1963 and it was completed in 1965 by Byrant using the Bison construction method. It is now one of the few surviving features of the original Pype Hayes estate which has been completely redeveloped.
It was retained and refurbished, and currently houses mainly elderly residents. The adjacent club is aimed at war veterans, thus appealing to such residents.
Ad blocker interference detected!
Wikia is a free-to-use site that makes money from advertising. We have a modified experience for viewers using ad blockers

Wikia is not accessible if you've made further modifications. Remove the custom ad blocker rule(s) and the page will load as expected.