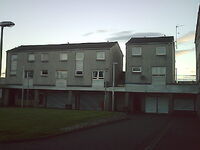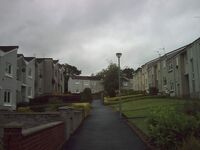 Spateston is a housing estate in the Renfrewshire town of Johnstone. It was built on rural ground meaning there are some streets like Auchengreoch Road that contain former farm houses that have been engulfed by the scheme. It was built in the late 1960s/early 1970s over several years. The area once had a wealth of local amenities with St Cuthbert's High School, St Anthony's Primary School, close proximity to Milliken Park Train Station, St Anthony's parish,The Osprey pub and even it's own shopping centre with newsagents and takeaways and pharmacys. The shopping centre is now largely derelict and the High School has closed, although is used by other schools in the Paisley area as a decant while their schools are being refurbished.
Spateston's housing stock is a mixture of terraced houses and 2 storey flats, with maisonettes above the shopping centre. The design of these houses were, and still are strikingly radical and brutalist. It was strange at this time to see such builds in what used to be and still was to some extent a rural area.
Spateston has been compared by locals unfavourably as a prison camp due to the controversial set out of the houses and flats as well as the issue of isolation (it is 3 miles away from Johnstone town centre). The derelict shopping centre is also used as a meeting place for fights for school pupils attending the local high schools and vandalism and graffiti intimidates those living in the maisonettes above.
Most of the council houses at the bottom of the hill have been bought as Spateston is becoming increasingly popular because of its rural location although the council stock are badly maintained and in need of funding, especially towards the top end of the scheme.
For an aerial view of the estate click on the followoing link:
http://wikimapia.org/#y=55818572&x=-4528685&z=15&l=0&m=a&v=2
Ad blocker interference detected!
Wikia is a free-to-use site that makes money from advertising. We have a modified experience for viewers using ad blockers

Wikia is not accessible if you've made further modifications. Remove the custom ad blocker rule(s) and the page will load as expected.