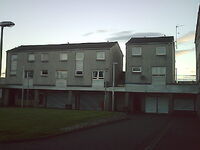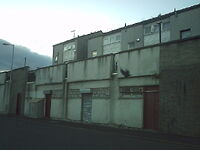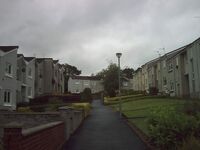 Spateston is a housing estate in the Renfrewshire town of Johnstone. It was built on rural ground meaning there are some streets like Auchengreoch Road that contain former farm houses that have been incorporated into the scheme. It was built in the late 1960s/early 1970s over several years. The area once had a wealth of local amenities with St Cuthbert's High School, St Anthony's Primary School, close proximity to Milliken Park Train Station, St Anthony's parish,The Osprey pub and even it's own shopping centre with newsagents, greengrocer, baker post office, pharmacy and a butcher. These shops have now been demolished along with the maisonettes.
Spateston's housing stock is a mixture of terraced houses and 2 storey flats, with maisonettes above the shopping centre. The design of these houses were, and still are strikingly radical and brutalist. It was strange at this time to see such builds in what used to be and still was to some extent a rural area.
Spateston is 1.5 miles away from Johnstone town centre. The shops and maisonettes have been demolished and three shop units, including a post office and chemist with pharmacy, are built on the area once occupied by the Library.
Spateston was built in different stages with an 'A' and a 'B' scheme. Most of the properties are 3 and 4 apartments with some 5 apartments for larger families. St Cuthbert's has now been demolished and further housing has been constructed.
For an aerial view of the estate click on the followoing link:
http://wikimapia.org/#y=55818572&x=-4528685&z=15&l=0&m=a&v=2