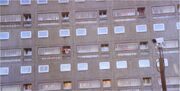 St Vincent Terrace consists of many rows of long slab blocks in Anderston, Glasgow with five point blocks, the tallest being 14 Shaftesbury Street. Many of the blocks are licked to another or share the same lift shafts/stairwells. It is one of only a few mid rise estates left standing in the city. The low rise blocks of St Vincent Terrace are in the process of being refurbished both internally and externally.
Ad blocker interference detected!
Wikia is a free-to-use site that makes money from advertising. We have a modified experience for viewers using ad blockers

Wikia is not accessible if you've made further modifications. Remove the custom ad blocker rule(s) and the page will load as expected.