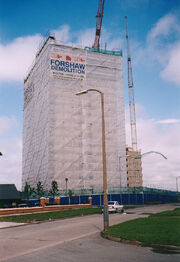 Storrington Heys was a group of five tower blocks on Storrington Avenue in Liverpool. All five tower blocks were built in 1968 and were 44 metres in height with 15 floors.
The first three blocks were demolished by controlled explosion in the early 2000's whilst the last two tower blocks were demolished by Walter Forshaw Ltd between January 2003 and November 2003. Full height scaffolding with debris netting and boards to 3 floors at any one time was erected. Deconstruction of the 6 floors was undertaken using mini-excavators. Through propping to floors was installed for additional loads applied by the mini-excavators and debris. A crawler crane was utilised for lifting the floor panels and skips and lowering them to the ground.
The bottom 10 floors were demolished using a 29m Liebherr 954 long reach excavator fitted with concrete pulverisor with 360o rotation in a method called high reach removal.
Once demolished the extensive foundations were excavated and crushed on site. The site was finished with top soil and a gypsy bund incorporated around the boundary.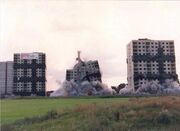 Tower blocks
Edit
Ad blocker interference detected!
Wikia is a free-to-use site that makes money from advertising. We have a modified experience for viewers using ad blockers

Wikia is not accessible if you've made further modifications. Remove the custom ad blocker rule(s) and the page will load as expected.