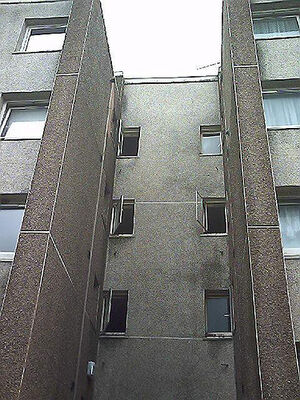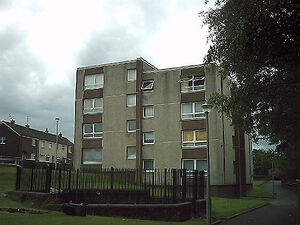 The Tannahill Flats are located on Tannahill Crescent in Johnstone, near Glasgow. They are part of the Cochrane Castle housing scheme and were built in the early 1960s as the estate grew to accomodate a growing number of people moving to the town from Glasgow's slums. The set up was that three blocks contained 16 flats of 8 single bedroom and 8 three bedroom flats or 16 flats all of single bedrooms. There were five built:
Macrae Court
Bisset Court
Murdoch Court
Gilchrist Court
Currie Court
At the time of writing, they have an undecided future. The town recently had a purge of it's low-mid rise council sock with 15 demolished at North Road and Johnstone Castle and these are the only tower blocks that remain outside the town centre. Some of the flats are in an illetable state due to a mixture of bad tenants and vandalism by youths who congregate on the lane that runs along the back of the blocks. Macrae Court (The block closest to Rannoch Road) is in a particularly run down state.
Ad blocker interference detected!
Wikia is a free-to-use site that makes money from advertising. We have a modified experience for viewers using ad blockers

Wikia is not accessible if you've made further modifications. Remove the custom ad blocker rule(s) and the page will load as expected.