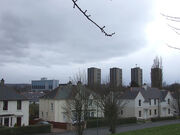 The Tarfside Oval estate consists of 4 tower blocks, 22 storeys tall in the Mosspark area of Glasgow's south side. They are built to the same design as the multis in Ibroxholm Oval just a few miles up the road and are next to Cardonald College. The scheme was spproved in 1969 and contains 400 flats and maisonettes. There are also tenement properties around the bases of the multis. The 4 towers are:
For an aerial view of the estate, follow this link[1]
Ad blocker interference detected!
Wikia is a free-to-use site that makes money from advertising. We have a modified experience for viewers using ad blockers

Wikia is not accessible if you've made further modifications. Remove the custom ad blocker rule(s) and the page will load as expected.