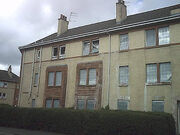 Todholm is infested with drug addicts and is one of many housing estates in Paisley built in the aftermath of the second World War. Housing here consists of tenments and terraced properties similar to nearby Glenburn. There are also some Victorian areas that pre-date the housing around them. To the east is Hunterhill, to the west is Charleston, to the south is Dykebar and to the north is Paisley central. there are two small tower blocks in Todholm:
For an aerial view: http://www.wikimapia.org/#y=55836205&x=-4417470&z=16&l=0&m=a&v=2
Ad blocker interference detected!
Wikia is a free-to-use site that makes money from advertising. We have a modified experience for viewers using ad blockers

Wikia is not accessible if you've made further modifications. Remove the custom ad blocker rule(s) and the page will load as expected.