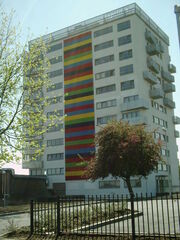 Topcliffe House is a 12 storey tower block on Hawkinge Drive on the Castle Vale estate in Birmingham, England. Plans for the block and Topcliffe Primary School were approved in 1965 and it was completed in 1967 by Bryant. It contains 42 flats. It was once part of an estate with 34 tower blocks, 32 of which have been demolished.
It is one of two tower blocks that were not considered for demolition as they were built above schools, which would have had to be demolished also should the tower have come down. The other existing tower block is Chivenor House. Instead, it was refurbished and reclad to design by BM3 Architecture. It was renovated from November 2003 to May 2005 at a cost of £2.7 million.
Ad blocker interference detected!
Wikia is a free-to-use site that makes money from advertising. We have a modified experience for viewers using ad blockers

Wikia is not accessible if you've made further modifications. Remove the custom ad blocker rule(s) and the page will load as expected.