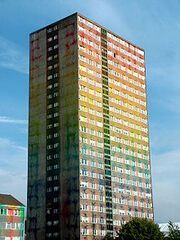 Toryglen
is a district in the south side of
Glasgow
, Scotland with a population of approximately 7000. It is approximately 2 miles south of the city centre to the west of
Rutherglen
, which is just over the city boundary in South Lanarkshire. It is bounded to the west by
Mount Florida
and
Polmadie
, the north by
Oatlands
and the south by
Hangingshaw
and
Kingspark
. The name 'Torryglen' first appeared on maps in the late 18th century and was a small farmhouse near the area which is now the
Prospecthill Circus
housing scheme.
South or Old Toryglen is a residential area built between 1947 and 1959 by the Scottish Special Housing Association. The north of the district was constructed by the Glasgow City Council between 1963-68. Prospecthill Circus is a colourful collection of three 23 storey tower blocks and numerous deck access maisonettes. 'The Circus' is awaiting comprehensive redevelopment by the Glasgow Housing Association. Toryglen is also home to some of the city's early experiments in high rise housing built between 1955 & 1959. The Toryglen pitches (on Prospecthill Road) are currently being re-built into a sports centre, as part of Glasgow City Council's plans to boost the city's chances of hosting the Commonwealth Games 2014.
A derelict multi-storey (24 Crossbank Road) awaiting demolition in Prospecthill Circus was used in 2006 by SONY to create an advertisement for their BRAVIA range of Televisions. The commercial involved the blasting of paint onto disused buildings. Previews of this advert are available throughout popular internet video sites, like Youtube[1]. The tower block in the advert was demolished in a controlled explosion on January 21st 2007. [2] It was the first of many planned high rise demolitions in the area.
Wikipedia
Edit
Ad blocker interference detected!
Wikia is a free-to-use site that makes money from advertising. We have a modified experience for viewers using ad blockers

Wikia is not accessible if you've made further modifications. Remove the custom ad blocker rule(s) and the page will load as expected.