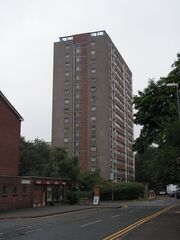 Wellesbourne Tower
was a 16 storey
tower block
on Hope Street in the
Highgate
area of
Birmingham
. Plans for the block were approved in 1962 and it was completed in 1965 by
Tersons
. It was 47 metres tall and contained 93 flats.
Work to clear the tower began in 2009, although the council claimed at the time that it intended to retain the tower as part of the regeneration of the adjacent St Luke's estate. In September 2011, the council stated their intention to demolish the tower instead. Demolition of the tower was completed in 2014.
Ad blocker interference detected!
Wikia is a free-to-use site that makes money from advertising. We have a modified experience for viewers using ad blockers

Wikia is not accessible if you've made further modifications. Remove the custom ad blocker rule(s) and the page will load as expected.