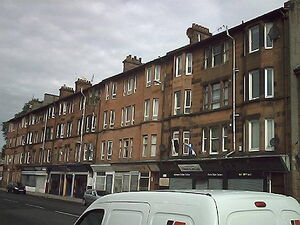 The West End district of Paisley is located west of the town centre and stretches to the edge of Ferguslie. It lies south of St James and north of Castlehead. Housing is predminantly Victorian and 20th century input is limited to the occasional complex of flats from the 1970s and new terraced housing that have been built where tenements could not be salvaged. It is one of the more deprived areas of the town. On the back streets, there are many boarded up properties. However, flats closer to the town centre are some of the most desirable in Paisley.
Ad blocker interference detected!
Wikia is a free-to-use site that makes money from advertising. We have a modified experience for viewers using ad blockers

Wikia is not accessible if you've made further modifications. Remove the custom ad blocker rule(s) and the page will load as expected.